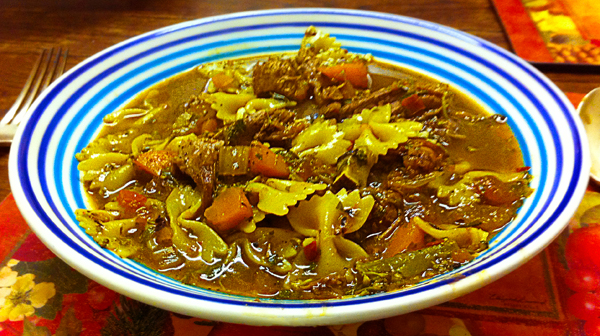 This recipe for Lamb Shank Soup is nothing short of delicious and mouth-watering and has become a firm favourite in our household. We like to add Farfalle pasta bow ties to the recipe to give it that full meal quantity. It can be made without the pasta but I would highly recommend you try with the Farfalle.
I have to admit that Lamb Shanks cooked correctly rate as one of my favourite meals. There is nothing like it when it comes to the tender meat gently falling from the bone and the succulent flavour it imparts to one's taste buds. I generally use British lamb from Kent, Dorset or Wales I am then guaranteed plump and fresh shanks.
I have experimented with a few Lamb Shank recipes and have some good fortune to be blessed with amazing end results. It has all not been perfect, there have times when in great expectation only to be met with a tough knuckle when pulled from the oven. Nevertheless, over the years I have learnt from my own mistakes and listened to some of the masters in the preparation of Lamb Shanks.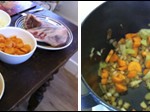 Lamb Shank & Farfalle Soup
A delicious recipe of Lamb Shank Soup that is destined to become a family favourite or as a gourmet meal in it's own right.
Ingredients
4

x Lamb Shanks with bone

Fat trimmed and removed.

1

x tbsp. Olive Oil

3

x Carrots Chopped

1

x Large Onion chopped

1

x Large Celery stalk chopped

1

x Garlic Clove minced

1

x tbsp. finely chopped fresh Rosemary.

1

x Chilli

chopped fine

3

x Large Tomatoes chopped well.

1¼

Liters

of Beef stock.

For expediency I prefer the Knorr Stock Pots

2

x Cups water

2

x Finely chopped Italian parsley

2

x Cups of Farfalle Pasta

Bow tie
Instructions
Ensuring the fat has been trimmed from the Lamb, place the shanks into a heavy cooking pot with the oil and brown on all sides for about 10 minutes over medium heat. Remove the lamb shanks from the pot and set aside.

Add the celery, carrots and onion to the same pan and cook until softened about 5 minutes.

Add the rosemary, garlic, tomatoes, beef stock, chilli, and water to the pan.

Return the Lamb shanks to the pan.

On a low heat simmer for 50 - 60 minutes or until the meat is falling of the bone.

Remove the lamb shanks from the pan and slice away the remaining meat from the bone.

Chop the meat roughly and return to the pan.

Stir in the Italian parsley.

This is when you add the Farfalle pasta. It has to be judged by cooking time. As Farfalle are small bow-ties it will cook fairly quickly. Check the instructions on the pack for the correct cooking times.

Add more water to the pot if required.

Add the pasta and continue cooking until the pasta is ready approximately 10 minutes.